To celebrate this Eid al-Fitr, PTE Study Centre is offering a big discount on all PTE, NAATI & AIWAS Plus Packages! We are giving  50% flash sale on all PTE courses, NAATI courses and AIWAS Plus Packages.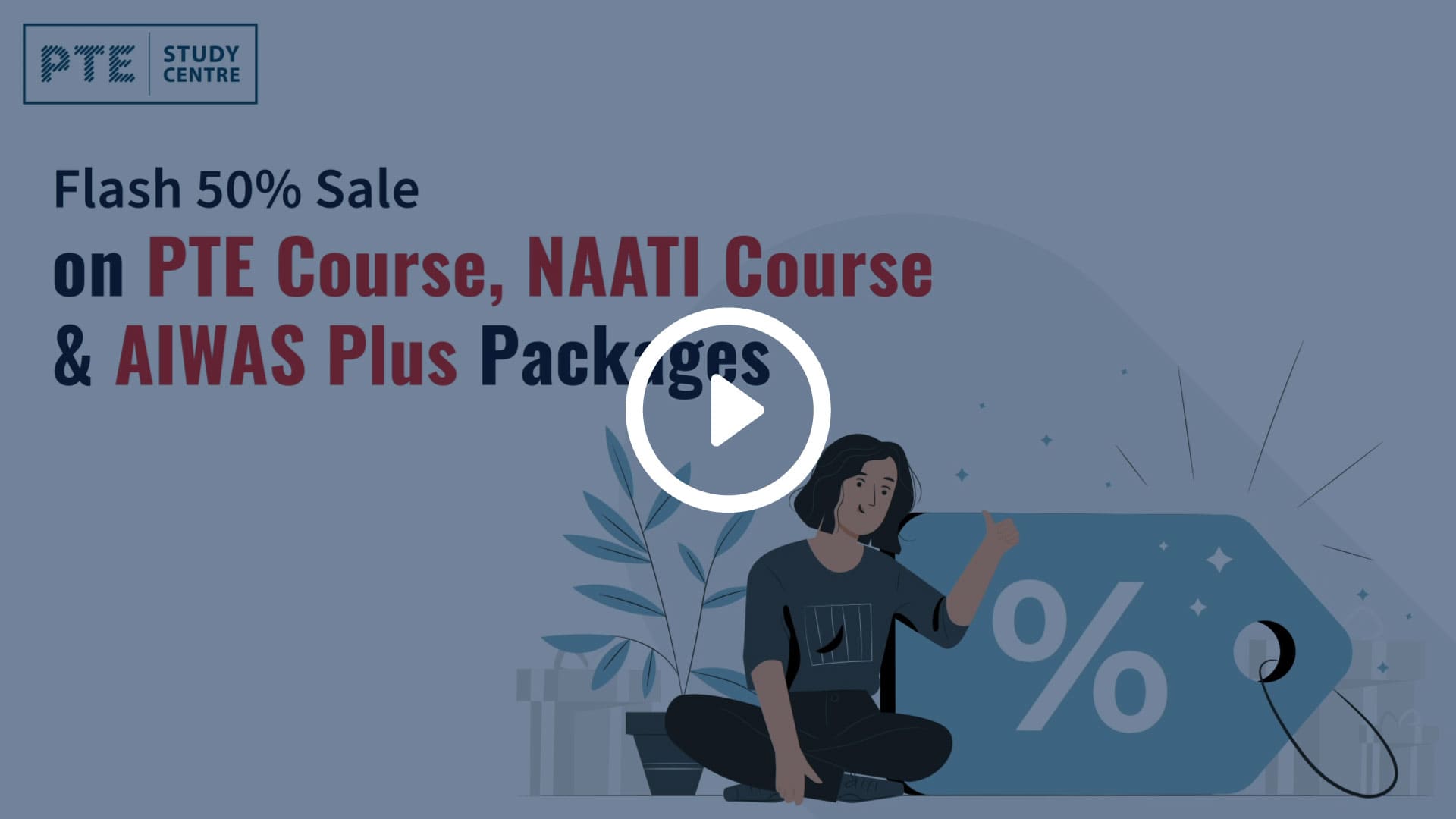 Why PTE Study Centre?
Pioneer of PTE academics in Australia
5 centres in Australia with 40+ industry professional trainers
44 different country students
Generated so far 34k+ successful students
We have been receiving continuous success from 2014 till date
We provide the best PTE practice materials and tools
About our PTE Courses
PTE Study Centre is the innovator of intensive PTE preparation program, PTE progress tracking system, and mentorship program. We provide the best PTE course for PTE candidates. All our instructors are TESOL/CELTA, who designs all our courses. Our unique training method made us successful till date.
We have-
Fully Equipped PTE Labs
Hybrid Learning Options for Students
Online PTE Training Portal
Non-stop Live PTE Training Portal
Intensive Feedback & Exam Support
Speaking Content Recognition Training
Systematic Follow up
AudioCloud
Materials Portal
Video Lecture Portal
About our NAATI CCL Courses
Firstly, PTE Study Centre is the number one NAATI CCL Professional Training Centre, with a track record of proven success. Secondly, we are the most CCL language providers of any language. We have industry professional trainers on site, as well as the most effective training methodology and NAATI CCL preparation materials to ensure your success. Furthermore, we are the number one in Australia not because of a claim, but because of a well-documented and continuous success KPI.
We have-
Highest Number of Languages [31+]
Instant Feedback and Scoring
Quickest Preparation Time for Success
6 Active Batches
40+ Industry Professionals Under One Institute
Lecture Sessions by NAATI Accredited Interpreter and Translators Working in Various Industries
Professional Coaching with Personalized Attention and Monitoring by Dedicated Mentors
Online Support and Learning Sessions
About our AI Portal AIWAS Plus
AIWAS Plus, the best AI based PTE portal, developed by one and only PTE Study Centre. It is the best PTE training tool so far with proven results. It helps you to prepare for your upcoming PTE exam without any human trainer. Its AI technology gives you a perfect set of advice and result according to your preparation level.
It has-
All the 4 PTE Modules
20 PTE Topics
Automated Scoring
Pitch Detection Technology
AI Study Guide
So, if you are planning to sit for your PTE exam for your PR, get this amazing deal! You don't want to miss this super saver offer! This offer is valid for a limited time only. Terms and Conditions Applied for this flash sale.