What is CCL?
The Credentials Community Language Test, known as the CCL Test, is an assessment of your Language Abilities at a Community Level. As a part of certain points-based VISA Applications made by the Department of Home Affairs, individuals who pass the NAATI Credentialled Community Language Test can claim Credentialed Community Language Points (referred to Five Bonus Points).
Who is the Course for?
People who want to get extra 5 points for their Permanent Residency application
People who intend to take a CCL test and have a rough understanding about the test
University students who want to gain a better understanding about the test
Why Choose Us?
Highest Number of languages
Instant Feedback and scoring
Quickest preparation time for success
NAATI CCL Languages
Arabic, Bangla, Burmese, Cantonese, Filipino, French, Hindi, Indonesian, Italian, Khmer, Mandarin, Nepali, Portuguese, Punjabi, Persian, Sinhalese, Spanish, Telugu, Tamil, Thai, Urdu, Vietnamese & more.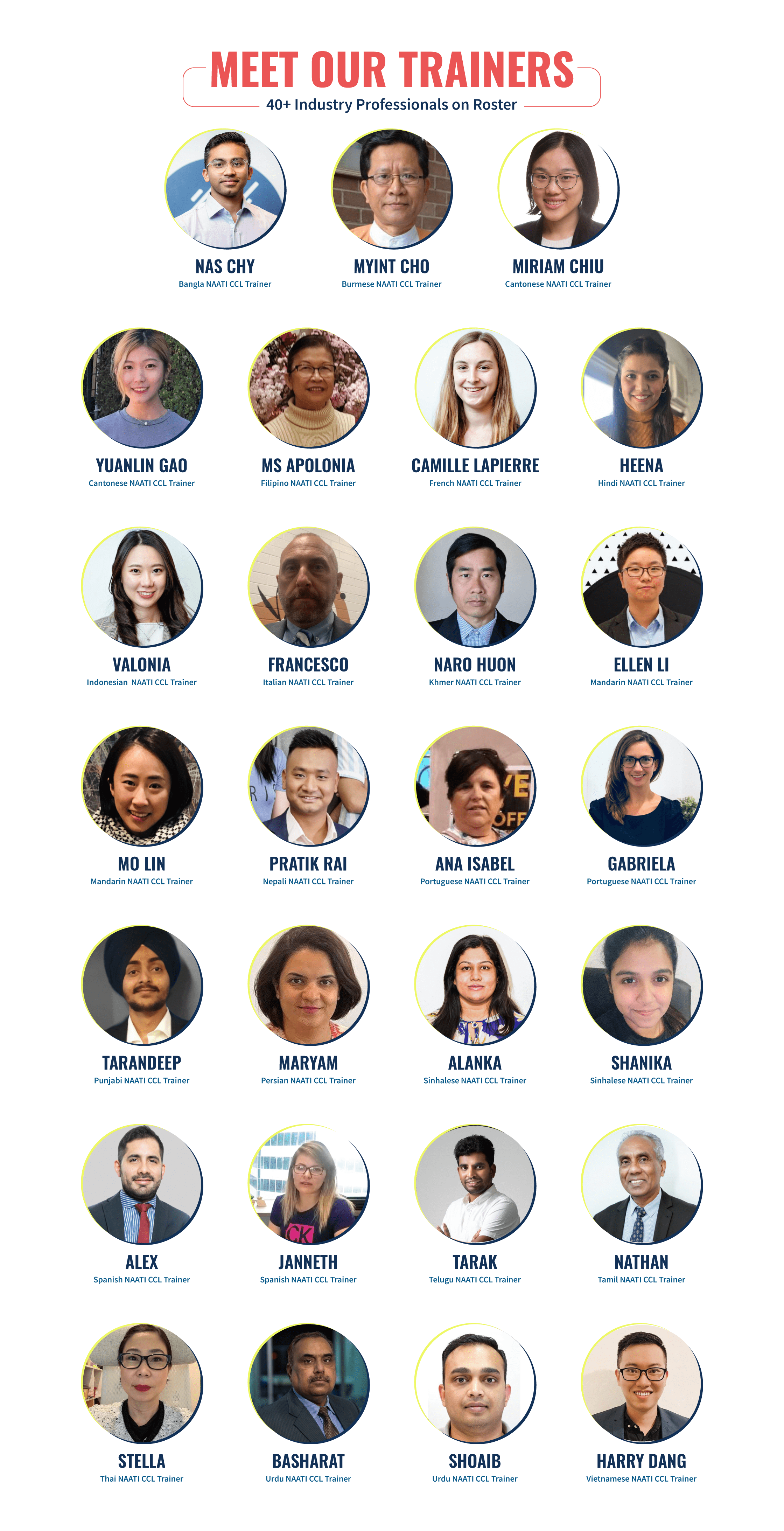 What Will the Course Cover?
Week 1: Introduction to interpreting.
Week 2: Build glossaries for interpreting.
Week 3: Communication skills for interpreting.
Week 4: Situational Analysis on topics.
Week 5: Interpret in general dialogue setting.
Week 6: Use routine subject matter terminology in interpreting.
Week 7: Demonstrate Routine LOTE proficiency in different subjects and cultural contexts.
Week 8: Major techniques to convey speech from LOTE to English and vice-versa.
Course Details:
Preparation Duration: 6 Weeks
Course Validity: 8 Weeks
Training Type: Small Group to Private
Fee: $595-$895 (Fee varies by languages)
Course Features:
Lecture Sessions by NAATI Accredited Interpreter and Translators Working in Various Industries
Professional Coaching with Personalized Attention and Mentoring by Dedicated Mentors
Online Support and Learning Sessions