About PTE Study Centre
In the month of November 2014, Department of Home Affairs of Australia (then Department of Immigration and Border Protection) started accepting PTE Academic as standard English Language Test for visa application. Then our Founder Director realised that there is a need of proper and knowledgeable PTE training institution to train visa applicants with necessary skills, strategies, and techniques to ace PTE. Our director has exceptional scores of IELTS 9, PTE 90 and GMAT 720+. Finally, he took the initiation of imparting his knowledge of English language to the aspirants of PTE Academic on December 6, 2014.
7 years Success Story of PTE Study Centre
Pioneer of PTE academics in Australia
PTE Study Centre is the pioneer of professional PTE training in Australia, starting their journey from 5 December 2014. Since then, we have claimed the number #1 spot in preparing PTE aspirants by generating continuous success throughout these 7 years.
34k successful students
PTE Study Centre prides to be the industry leader in providing risk-free strategies in achieving the fastest possible success through innovative preparation tools. Till now, the highest Number of 65 and 79 in PTE has been proven by well-documented score reports
5 centres in Australia with 40+ industry professional trainers
PTE Study Centre has been confidently providing quality services through their 5 centres in Australia. We have industry professional trainers who use the most effective techniques for over 31 languages to train.
44 different country students
PTE Study Centre has been serving numerous students from different countries, offering the most effective training methodologies and the best PTE and NAATI CCL materials.
Continuous success from 2014 till date
PTE Study Centre research comes certified and successful. With the highest number of students scoring 90 and 79+ every year, the unique PTE success formula stands proven through the test of time. So far 1000+ students got 90, 21000+ students got 79+, 13000+ students got 65+ from our centre.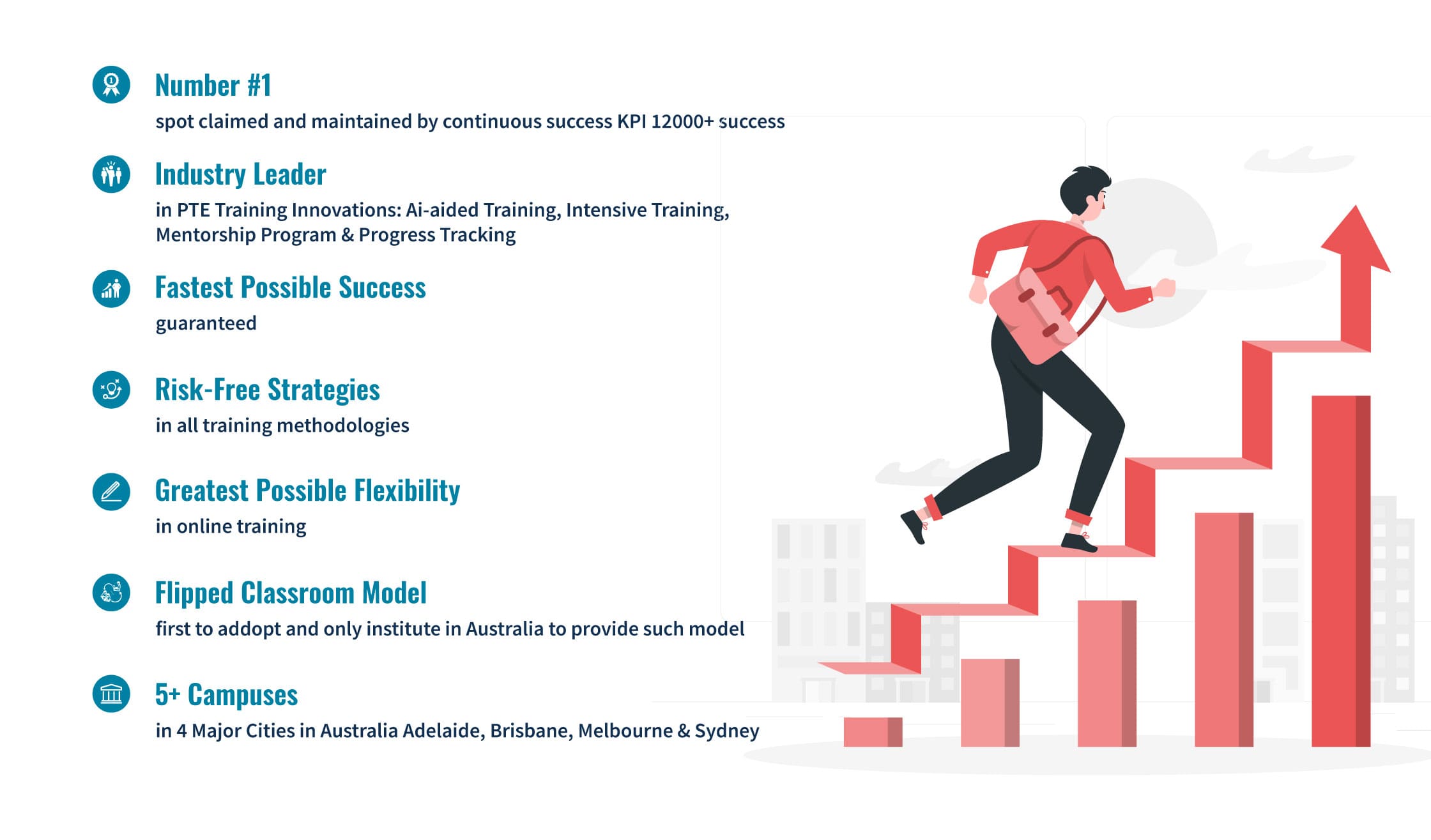 Our services throughout 7 years
Flipped PTE Training Model
– On campus or online training
– Non-stop PTE Training
– 24/7 Video lecture portal
– Flexible self-paced training
Live Class Portal
– Live PTE Training
– PTE Materials
– PTE Audiocloud
– Live Recorded Video Lectures
PTE Infinity
– Intensive Lectures
– Speaking Feedback
– Rapid Lectures
– Guided Practice
– Q&A Open Discussion
– Broadcasts of the Week
– Rapid Lectures [Weekend]
– Speaking Feedback [Weekend]
– Q&A [Weekend]
– Live Recorded Lectures
Speaking Content Recognition Training
– PTE Speaking Content Recognition Training
– Speaking Feedback Twice Daily by Speaking Experts
– 3x Private Lessons: Pitch Assessment, 44 English Sounds Diagnosis, Voice Projection Training
PTE Study Centre also offers the most effective training methodologies and the best NAATI CCL materials. We have the highest number of CCL Languages and have the best industry professional trainers. We offer for more than 30 languages.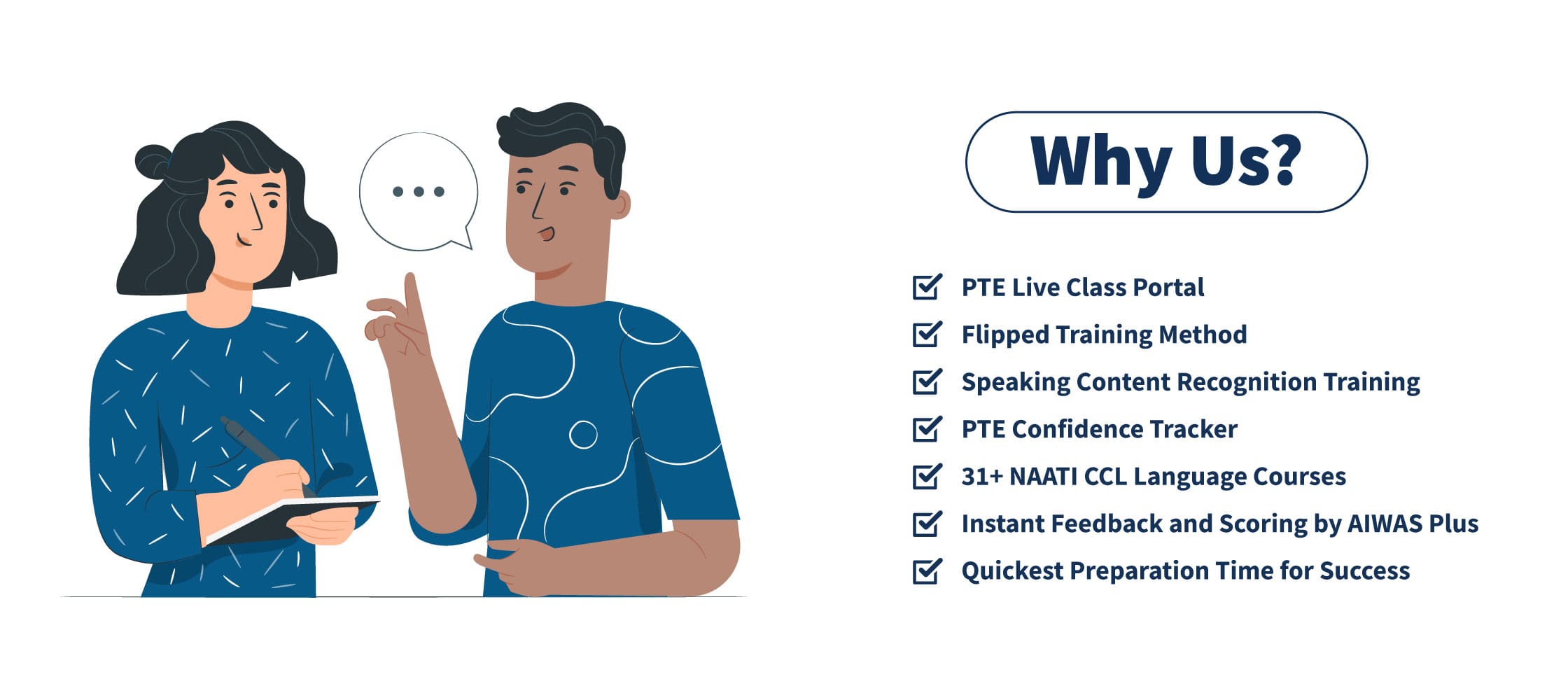 PTE Study Centre in a nutshell
Highest number of 65 and 79 in PTE since 2014: Proven by well-documented reports
Highly professional and immensely passionate trainers: TESOL/ CELTA qualified
Most effective training methodologies: Guaranteed to work in the fastest possible time
Incomparably comprehensive AI tools and platforms: Powered by PTE Portal and AIWAS Plus
Industry leader in innovation: Intensive PTE training, Mentorship program and Flipped Classroom model