PTE Study Centre is the innovator of intensive PTE preparation program, PTE progress tracking system, and mentorship program.
We offer the best PTE course for PTE aspirants. We have industry professional PTE trainers. All our courses are designed by our TESOL/CELTA instructors to provide you a pathway to improve your enabling skills along with the conventional PTE Academic tips and strategies.
Our Professional PTE Course Packages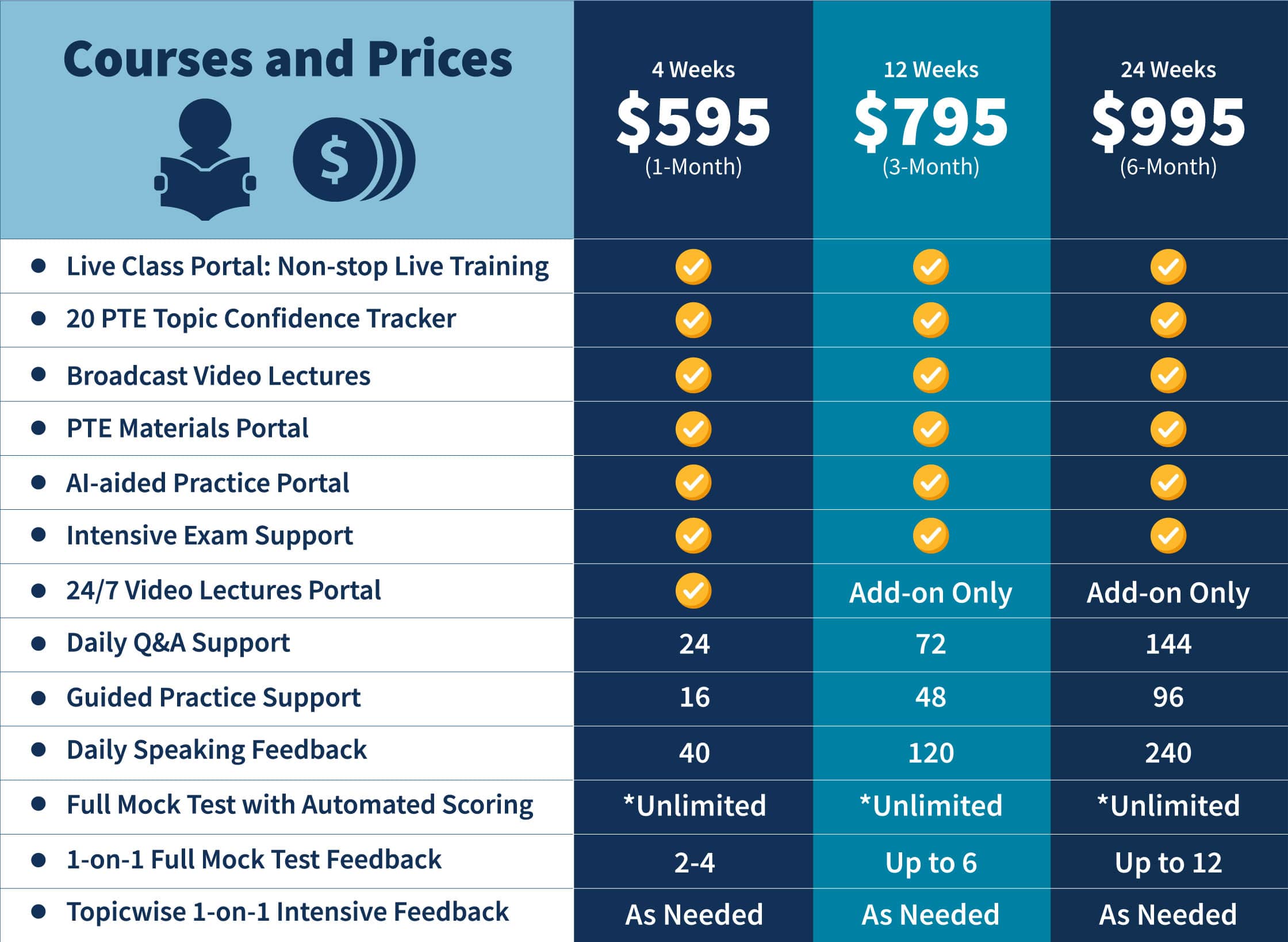 Our course contains:
Fully Equipped PTE Lab:
Firstly, we have fully equipped PTE Lab that you can access, with practice tests, mock tests, & 500+ PTE exercises. You will find all the materials including prediction file, weekly timetable, time management card, PTE score matrix, PTE templates etc
Hybrid Learning Options:
Secondly, our flipped classroom is a non-stop confidence tracker that helps the PTE candidates to enjoy the greatest flexibility and to utilize the time for effective learning. The concept of Flipped Classroom focuses on: Active Learning, Experiential Learning, Student's Engagements, and Hybrid Course Design and Course Podcasting. This method ensures flexibility in PTE preparation.
Leader in online PTE training:
Thirdly, PTE Study Centre is Australia's first institute that offers training methodology using a unique online learning technology known as "Live Class Portal". This online platform was created to provide all PTE candidates in Australia with the most flexibility in online PTE instruction. Since then, we've taken delight in offering Australia's best online PTE instruction.
Non-stop Live PTE Training Model:
Besides, we conduct back-to-back live training sessions where our dedicated trainers cover strategy lessons for 20 topics of PTE and rapid lessons on various sub-skills required for the fastest PTE preparation.
Intensive Feedback & Exam Support:
Moreover, our industry professional PTE trainers are always there to help you out in your PTE journey. We have our very own AI based online Portal, name AIWAS Plus, which was fully developed by PTE Study Centre team. This technology's major goal is to give you a training environment that includes fast AI-based scoring and thorough feedback.
Speaking Content Recognition Training:
We also have speaking content recognition training. This is an exclusive training developed by 3 TESOL qualified instructors from Sydney PTE Study Centre to provide additional support to PTE aspirants, who are looking forward to improve their speaking scores or aspiring to secure PTE success.
Systematic Follow up:
Our trainers are always there when students need them. Trainers are always in touch with the students for continuous followup, which makes our training for successful.
So, if you are a PTE aspirant, looking for professional PTE courses, please book 1 FREE Consultation with one of our course advisors. Our team will give you the Best PTE Advice and suggest you the best course that suits you.