PTE Study Centre brings you the best tips of PTE. If you want to achieve the perfect 79+ scores, then follow these tips for time management for PTE preparation. It is important that you complete all the tasks within the given time limit on test day. Most of the time students complain that they end up missing out on writing essay or write from dictation, or sometimes summarize written text, summarize spoken text.
The main reason for this is the lack of time management for each question type. But there's no need to worry because with a little bit of strategy it's possible to improve the score by the proper use of time. PTE Study Centre gives you the best tips and tricks for time management in PTE.
Effective use of time:
Correct use of time is one of the crucial part of the test. Spending more than three minutes while answering multiple choice questions leaves very less time for answering the rest of the questions. Students need to be more proactive and attentive while answering, rather than rushing through the whole question and getting the answer wrong. This is why it's essential that the students take mock tests to develop the habit of finishing all the questions in time.
Getting familiarized with the patterns:
Practicing over and over again, knowing the sequence of the question can save a lot of time as it prepares you for the real exam. By attending the PTE mock test, you will learn the pattern, so you won't get surprised during the real exam.
Focusing on the critical question type:
Focus on the questions which carry minus marking because answering incorrectly rather than not answering at all can hamper your score. Try to focus on the Highlight incorrect words, for which you can attract the negative marks. On the other hand, you can concentrate on questions such as questions from the Listening section and fill in the blanks to get marks easily.
Time Management in PTE is really important. By learning all the time management tips, one can easily finish their PTE exam in time and get their desired PTE score quickly and easily! We have prepared a time management card for PTE aspirants, which will help candidates to manage their time perfectly in their PTE exam. Contact us and get your time management card now!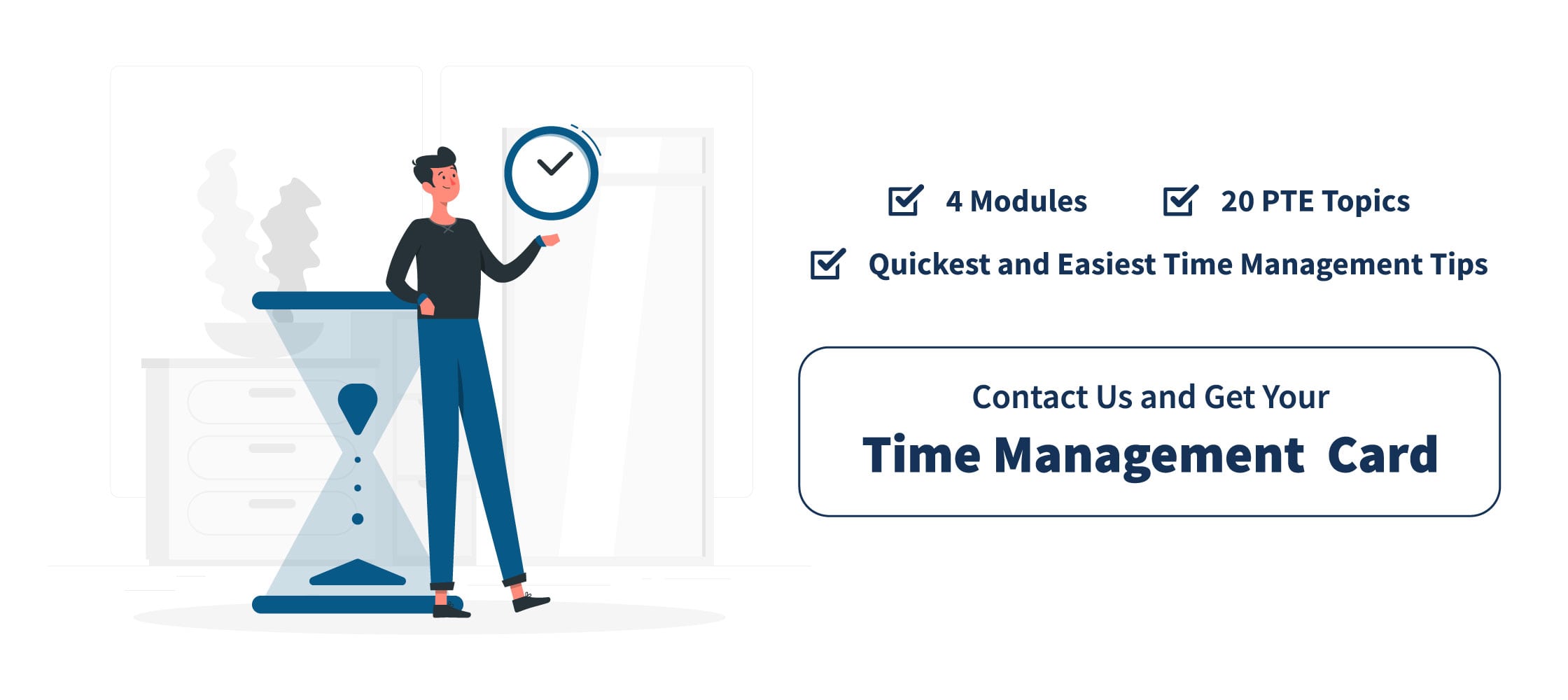 Contact us to get more useful tips and updates.