PTE Advance preparation with 6-month course to achieve 79+ for certain
Melbourne PTE Study Centre is the only PTE training centre that follows a blended training method for PTE preparation. Students take preparation from Next Generation AI portal AIWAS Plus along with that get highly experienced trainers feedback who have helped more than 50000 students to get their desired PTE score. Students will also get access to our Most Exclusive material monthly Prediction File (50%-60% hit rate), the most common questions appearing in real PTE exams.
Course Duration: 180 Days ( Full Package)
+ 60 Days Speaking access

FREE
Regular price:  $995
Promotional Price:

$660

Save 34% Now Instantly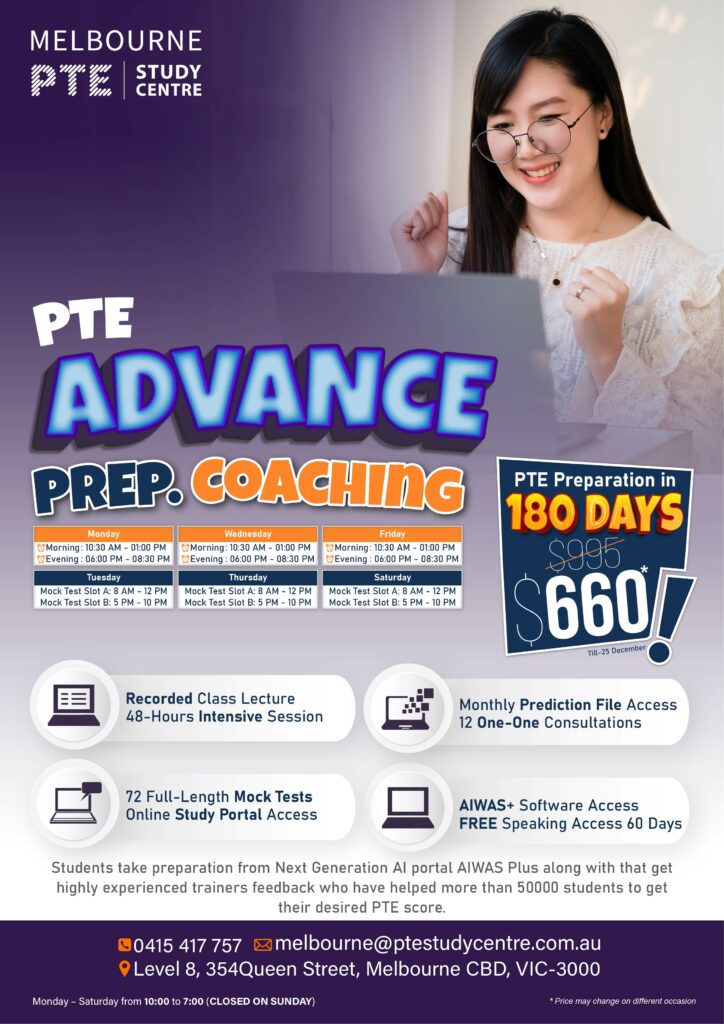 Our Full Package: Access 180 Days
🔖 LIVE class with our Expert Trainers who helped more than 50000 students to get their desired score.
🔖 Recorded class lecture of all the PTE 20 topics which will help you to get our trainer's special tips and tricks for getting high scores. 
🔖 12 Online personalized 1on1 consultations with our expert trainer, who will give feedback on your specified weaknesses. 
🔖 AIWAS Plus Software access, Automatic feedback for Reading, Writing, Listening + FREE Speaking with the closest algorithm of a real PTE machine
🔖 PTE Study Portal access One stop portal for all materials and consultation booking access
🔖 72 Full Mock Tests with the scorecard 
🔖 Prediction File access Script of real exam questions
🔖 Daily Online PTE Prep. Support through Study Group on Facebook & Telegram.
🔖 48 hours Intensive Special Class for personalized tips from the trainers
Course Preparation Plan
 Complete PTE topics live lecture, Recorded class lecture and practice PTE topics in AI Portal AIWAS Plus
Live Class 
Morning: 10:30 AM – 1:00 PM (Online)
Evening: 6:00 PM – 8:30 PM ( Face to Face + Online)
Monday ( Morning, Evening)

Wednesday ( Morning, Evening)

Friday ( Morning, Evening)
See our expert trainer class summary: https://mpte.me/PTE-ClassSummary 
Mock Test and Consultation: Sit for Mock Test and take consultation for feedback from Expert Trainers who made more than 50000 students successful. 
Mock Test Day
Tuesday (slot A: 8 AM – 12 PM; slot B: 5 PM – 10 PM)

Thursday (slot A: 8 AM – 12 PM; slot B: 5 PM – 10 PM)

Saturday (slot A: 8 AM – 12 PM; slot B: 5 PM – 10 PM)
How our Services will help you to get your desired score
Our services have helped more than 50000 students since 2014. We usually provide a bunch of services to prepare you for your PTE Exam. Among some of them, we provide a regular basis and some features are Exclusive for different courses. Our regular features of our services and Exclusive features of our services and how the services will help you are explained below: 
Regular Features
✍🏻 A detailed PTE Prep. Study Plan: It contains the suggested number of tasks that you need to complete per day. The required tasks depend on your target score and are tailored for your needs. (to get 79 in PTE ( IELTS Band Score 8) (20 PR Points in Australia)With a study plan that's detailed to each topic task, so that your PTE preparation replicates a personal training session. It helps boost your confidence through daily practice along with feedback from a credible trainer. With a detailed manual on what you need to do from day 1, you will achieve your desired score soon without having to worry about the best study technique.
✍🏻 All PTE Items Finished In 6 Days Only: Covering 20 topics in PTE within 6 days saves you time to do more practice. With the most innovative and effective strategies for each topic, you can confidently and easily apply them in the test. 
✍🏻 Intensive Lab Practice After Every Class: Learning strategy is the first step, followed by intensive lab practice where you identify your strengths and weaknesses. You will get to practice with your preferred learning strategy, such as group-based learning. 
(Note that: Currently, our centre is open for 3 Days (Monday, Wednesday, Friday) 12 pm – 9 pm and practice online for Tuesday, Thursday, Saturday for this pandemic)
✍🏻 One-on-One Consultation: AI is advantageous when it comes to getting a higher score but it cannot give you customized advice and guidance based on your needs personally because it can't tell all mistakes! Sitting down with a trainer and asking for manual feedback on mock tests is one of the best services you can get on the market. We help you to beat AI!
✍🏻 Latest Verified PTE Prediction File: Access to predicted exam questions helps you be fully armoured before going to the battle. Be knowledgeable of what challenges the enemy will throw at you, most importantly, how to defend and strike back!
✍🏻 Mock Test After Completing One Section: If you are not ready for a full mock test but still don't want to waste practice time then try attempting section-wise mock test i.e. Speaking/Writing/Reading/Listening Mock test. You can identify which area is your strength and which needs improvement so as to work on it accordingly.
✍🏻 Full Scored Mock with scorecard: A scored full mock test is what you need if you want to know how your preparation is before booking the Pearson test. It gives you a detailed score report which documents your answer and the correct answer. You can learn from the scored test report where you need to focus before the scheduled exam
Exclusive Features
✍🏻 A Special 2-hour Personalized PTE class every week:  Where your problems in any topic will be solved individually with sensitive care that tends to your exceptional needs.
✍🏻 New Monthly Prediction File (Hit rate/perfection rate >60%: Monthly Prediction file is Scheduled to be published right before the upcoming Pearson exam.
✍🏻 AIWAS PLUS: Our Practice Portal & Mock Test Portal include the most MIGHTY features and analytics, which will help you measure your progress PTE Preparation very effectively.
Who will enrol for this course
If a student wants to prepare himself with AI and also with the most experienced teacher for the PTE Exam and want to succeed in just one try, you MUST enrol in our Unlimited PTE Advance Prep. Course
Who wants to be prepared  with the next-generation AI portal AIWAS Plus

Who wants to get personalized Advanced Training

Who wants to succeed in PTE just one Try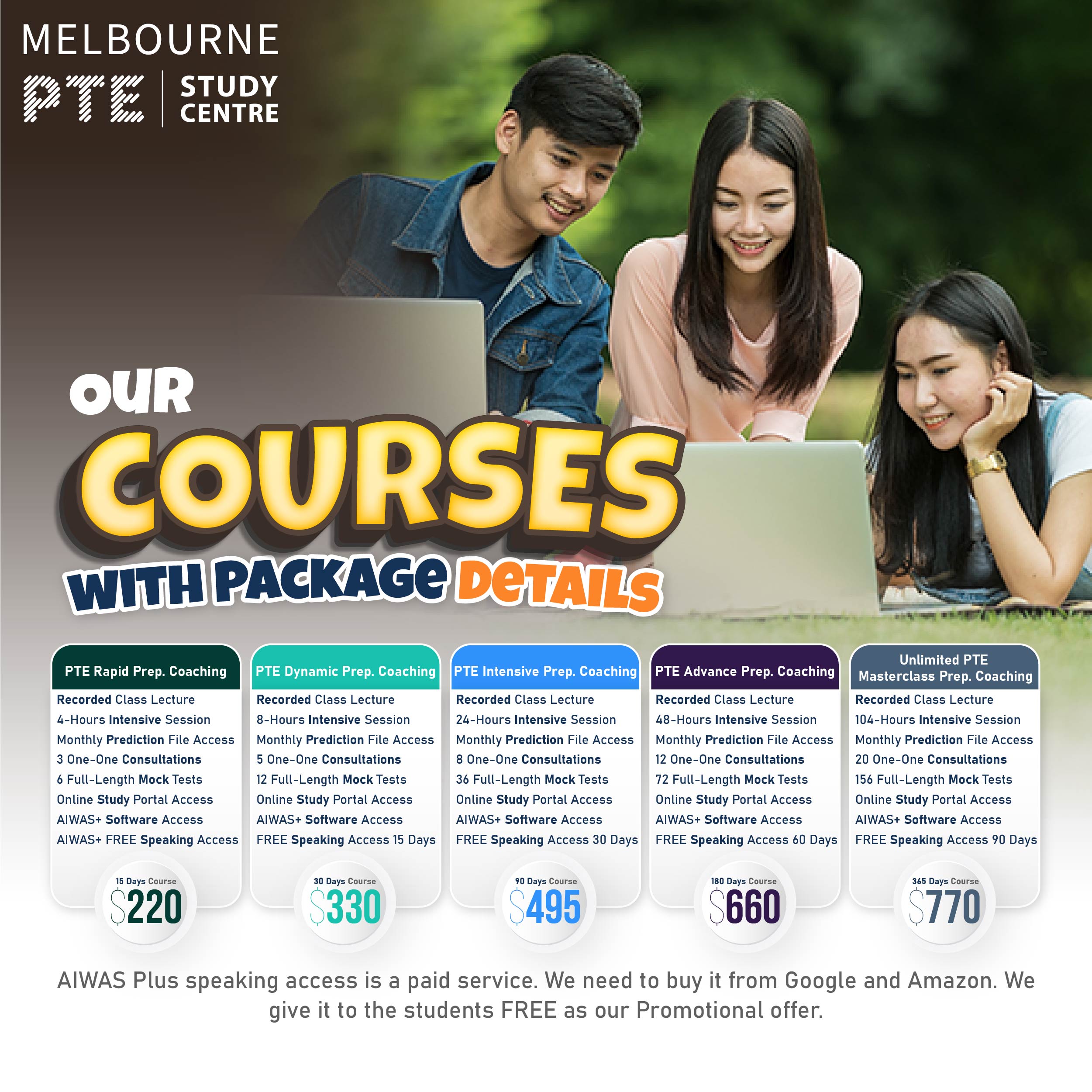 Choose a 2.5-hour Class for TRIAL now absolutely FREE!
Being the best PTE Coaching Centre in Australia, we are very much aware of the commitments the PTE training demands and how PTE training can seem intimidating to a lot of people. We always believe in value for money. This is why we have come up with the opportunity for a Trial Class. Where you can attend one of our regular live sessions to know about the quality service we are providing.
Benefits of taking a trial class
A TRIAL CLASS is a 2.5-hour regular class that you can take free of cost to resolve your confusion about PTE training.
Ask the trainer anything and everything you are confused about or need help with.
𝐓𝐨 𝐭𝐚𝐤𝐞 𝐨𝐧𝐞 (𝐅𝐑𝐄𝐄) 𝐓𝐫𝐚𝐢𝐥 𝐂𝐥𝐚𝐬𝐬/ (𝐅𝐑𝐄𝐄) 𝐅𝐮𝐥𝐥 𝐥𝐞𝐧𝐠𝐭𝐡 𝐌𝐨𝐜𝐤 𝐓𝐞𝐬𝐭 𝐰𝐢𝐭𝐡 𝐏𝐨𝐬𝐭 𝐌𝐨𝐜𝐤 𝐓𝐞𝐬𝐭 𝐂𝐨𝐧𝐬𝐮𝐥𝐭𝐚𝐭𝐢𝐨𝐧, 𝐂𝐨𝐧𝐭𝐚𝐜𝐭 𝐍𝐨𝐰! 𝐇𝐮𝐫𝐫𝐲 𝐮𝐩! 𝐒𝐞𝐚𝐭𝐬 𝐚𝐫𝐞 𝐥𝐢𝐦𝐢𝐭𝐞𝐝!
Instant Contact on TELEGRAM Messenger

:

t.me/melbournepte

Call us 0415417757

Monday – Friday (10 AM-9 PM)

Saturday (10 AM – 6 PM)

Email: [email protected]

Address: Level 8, 354Queen Street, Melbourne CBD, VIC-3000

Follow us on Social Media

Facebook: https://www.facebook.com/MelbournePTE 

Instagram: https://www.instagram.com/melbournepte/ 

Telegram: http://t.me/MelbournePTE 

YouTube: https://www.youtube.com/c/PTESTUDYCENTRE-Melbourne