Success Story of PTE Study Centre
PTE Study Centre have created a benchmark in the industry by developing numerous preparation pathways and training materials with the purpose of ensuring the quickest possible PTE achievement.
We have been helping numerous students in achieving their desired PTE & NAATI score Our research comes certified and successful. With the highest number of students scoring 90 and 79+ every year, the unique PTE success formula stands proven through the test of time. Our journey started from 2014 and so far we have helped 34000+ students where:
1000+ students got 90 in PTE
21000+ students got 79+ in PTE
13000+ students got 65+ in PTE
We are also the number #1 NAATI CCL Professional Training Centre, NOT by claim, rather by well DOCUMENTED CONTINUOUS success. PTE Study Centre has a team of 40+ industry professionals under ONE institute to consistently monitor quality NAATI CCL training. This dedicated team of professionals ensures our NAATI-CCL students pass the test in the very first attempt.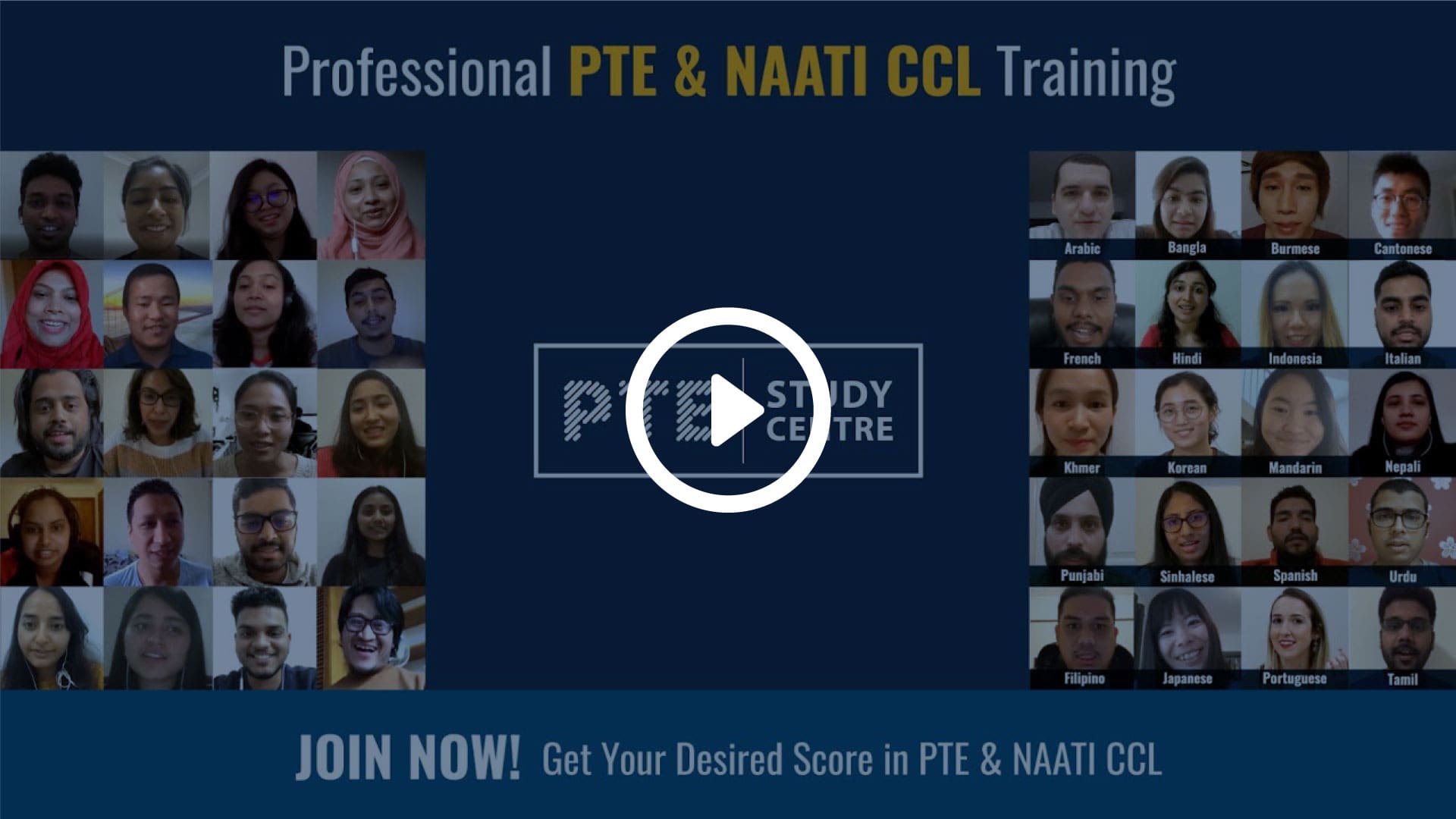 We have been receiving 100% positive reviews from our happy students who got their desired PTE & NAATI score with our help and guidance. In short, our success story makes it clear that our training methodologies and training materials are effective for all PTE candidates for FASTEST Success.
PTE Study Centre is the innovator of Intensive PTE preparation program, PTE Progress Tracking System and Mentorship Program. We also have PTE Live Class Portal. These back-to-back live training sessions are help every day from 11 a.m. to 8 p.m., during which our dedicated trainers cover strategy lessons for 20 PTE topics. We are also giving TWICE-DAILY Speaking Feedback with English Pronunciation Support. The goal of this training is SIMPLY to get your Speaking Score as "Fast as Possible"- GUARANTEED! NO Pseudo Strategies are Used Here!
Our Services that Make Us  Successful:
AIWAS Plus
– First ever AI PTE Portal
– 20 PTE Topic Training
– Automated PTE Scoring
– Pitch Detection Technology
– Better than other PTE Tools
Flipped PTE Training Model
– On campus or online training
– Non-stop PTE Training
– 24/7 Video lecture portal
– Flexible self-paced training
Live Class Portal
– Live PTE Training
– PTE Materials
– PTE Audiocloud
– Live Recorded Video Lectures
PTE Infinity
– Intensive Lectures
– Speaking Feedback
– Rapid Lectures
– Guided Practice
– Q&A Open Discussion
– Broadcasts of the Week
– Rapid Lectures [Weekend]
– Speaking Feedback [Weekend]
– Q&A [Weekend]
– Live Recorded Lectures
Speaking Content Recognition Training
– PTE Speaking Content Recognition Training
– Speaking Feedback Twice Daily by Speaking Experts
– 3x Private Lessons: Pitch Assessment, 44 English Sounds Diagnosis, Voice Projection Training
PTE Study Centre in a nutshell
Highest number of 65 and 79 in PTE since 2014: Proven by well-documented reports
Highly professional and immensely passionate trainers: TESOL/ CELTA qualified
Most effective training methodologies: Guaranteed to work in the fastest possible time
Incomparably comprehensive AI tools and platforms: Powered by PTE Portal and AIWAS Plus
Industry leader in innovation: Intensive PTE training, Mentorship program and Flipped Classroom model
So, contact us now to get the best training materials and support from our industry professional PTE & NAATI Trainers. You can also book a FREE Professional PTE Advice with one of our PTE advisors.