English Proficiency Tests & PTE (Pearson Test of English)
English Proficiency Tests & PTE are put in place for overseas education providers and department of immigration to assess the English language abilities or skills of students and migrants emigrating to majorly English-speaking countries such as Australia, Canada or UK.
As per The Common European Framework of Reference for Languages or CEFR model, these tests are designed to assess whether you have the necessary communicative English skills to study or live in a foreign country where English is used in every aspect of life. The CEFR model indicates your level of English in different categories such as Beginner, pre-intermediate to upper-intermediate and then to Proficient.
Now, based on the aspect of life where you will be needing to rely on your English skill, the CEFR requirements vary. For example, if you want to start a trade course in Australia, just being above beginner level is sufficient. On the other hand, as a skilled worker in the field of Medicine or Engineering, you must demonstrate proficient level of English. There are various test options which scores and labels you in a range of various CEFR levels, via means of various types of scoring matrix PTE Academic by Pearson or PTE  is one such test.
PTE is accepted for study applications by thousands of academic programs around the world. It is approved for all UK, Australian and New Zealand student visa and migration applications. PTE Academic is also accepted by most Canadian universities and colleges. If PTE is accepted to fulfil your English Proficiency Test requirement by the country or education provider you intend to apply with, then this blog is for you!
Now in simple words, PTE Academic assesses your listening, reading, speaking and writing skills, but, all via a computer in a single two-hour test session. This means, there is no human involvement in either testing or in the scoring process. That's right, a computer algorithm will decide whether you can demonstrate a beginner or proficient level of English.
What is the benefit of that?
The results are fast! Almost always, the results are published within a day. In many cases, it could even be just 2 hours. Also, more importantly, results or scoring is unbiased, your level assessment does not change based on the human examiner like many other tests like IELTS, PTE is an algorithm that follows a set of scoring rules!! Now these rules are what you must master to score your success with PTE.
PTE is conducted in 3 Parts made up of 20 Question Types. It takes about 2 hours to finish the test.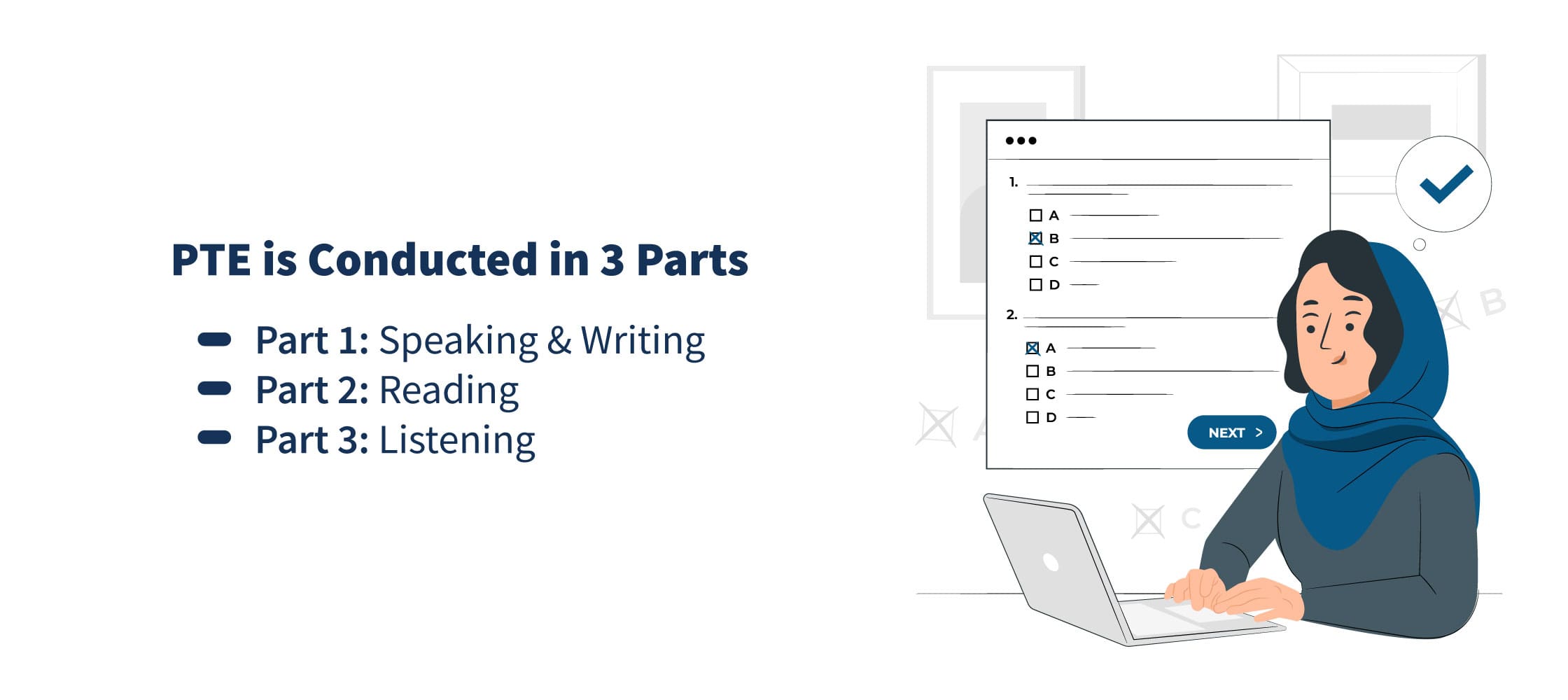 The integrated nature of the test
Most question types have integrated scoring. Before speaking or writing in the test, you need to listen accurately. If not, you will be scored/penalized for your listening as well.
Why you should choose PTE over any other English Proficiency Test?
First of all, this test is guaranteed to save your time in every aspect. Whether it's in preparation, in attending the test or in getting the result.

Well, in preparation, because you prepare by question type in PTE not by sections. For example, when you prepare for a Retell lecture for speaking if you remember it also scores for your listening. And thus listening preparation is done.

Secondly, The scoring is unbiased, it does not matter where the test is or when the test is. You prepare with the right strategies, and you are guaranteed to score success.

For example, in IELTS, writing scoring varies drastically by different reviewers. Some prefer argumentative writing, some persuasive. And these personal biases come across in the scoring.

But in PTE, it follows a set of rules. In essay writing questions of PTE, you are expected to address the topic given. You do that with no grammar and spelling error, you score enough to succeed.

And Finally, this is the only test in the world right now, with the greatest flexibility.

Test dates are available and can be booked 24 hours prior to booking. In a given day, multiple test sessions can be found, morning, afternoon and evening. It allows you to retake the test within  5 days.
If you are planning to take the PTE test for your PR, then contact us now and book a FREE CONSULTATION.