December Prediction File is Available Now
Up to 60% of Hit-Rate
Hello PTE Aspirants,
The wait is OVER. The December prediction file is available now which is the most demanding practice material for your PTE exam for the month of December.
Yes, Melbourne PTE Study Centre is ready with the December prediction file to help you to get more than 50% of common questions in your PTE test. If you want to get your desired and required score this December, you just can't miss this EXCLUSIVE FILE.
Why this prediction file is so IMPORTANT???
The Prediction file is a collection of real exam questions of the PTE Exam that may appear in future exams also. Melbourne PTE Prediction file is developed on continuous checking of the frequency of any question's repetition in 40 PTE Centres in 12 countries. All the questions got verified by our Trainers & Students having taken tests since August 2018. This file is published every month. 
This December we have 40% – 60% Hit rate in our prediction file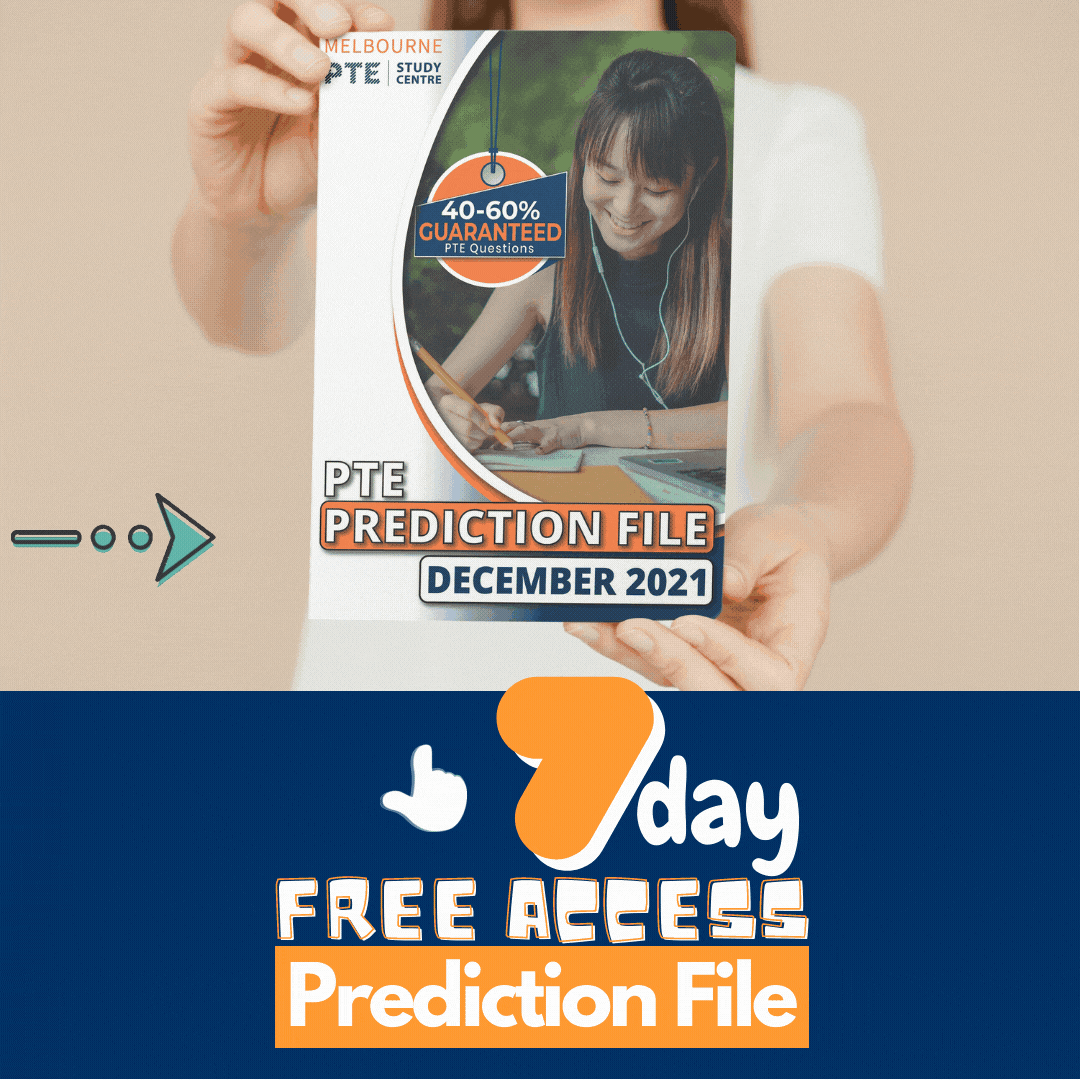 Our prediction file has the most important questions in
 Read Aloud 100+

 Repeat Sentence 80+

Describe Image 90+

 Retell Lecture 75+

 Answer Short Question 250

 Summarize Written Text 50

 Write Essay 30

 Reorder Paragraph 90+

 Fill In The Blank (R & W) 150

 Fill In The Blank Reading 100

 Summarize Spoken Text 60+

 Fill In The Blank Listening 

 Write From Dictation 180
Now the question is, Does the prediction file ensure 79+ score?
The answer is NO, only the Prediction file can't ensure 79+ score
But if you follow these techniques you must get 79+
Step 1. Go through all the techniques and strategies taught in the Melbourne PTE class.
Step 2.  Attend 1-2 Mock Tests from our AIWAS+.
Step 3. Discuss your result in the mock test with a trainer.
Step 4. Try to understand (not memorize) all the questions on PTE PREDICTION FILE. Remember, understanding is better than memorizing.
Step 5.  Practice regularly in AIWAS+ (Instant Checker) AIWAS+ Link: https://aiwas.io 
We are offering 7 Days FREE Access to our Latest Prediction File
To get 7 days of Free access to this Masterpiece with amazing indexing, call us NOW! Hurry up! Seats are limited! 
For further information,
Call, 0415 417 757
Mail, [email protected]
For Quickest Reply, contact us on, Telegram: t.me/MelbournePTE (For Enrolled Students)
Address: Level 8, 345 Queen Street, Melbourne CBD, VIC – 3000