Every single moment counts to us
Celebrating the 7th Birthday of the Best PTE Coaching in Australia!
On the 6th of December 2021, Melbourne PTE Study Centre will be 7 years old. Yes, we will be celebrating our 7th anniversary this year. We would like to invite you to participate in the festivities. We are truly overwhelmed by your constant love and support for us. It is YOU and your support that has made us grow so successfully.
In the last 7 years, we have achieved over 50,000+ PTE success stories (90, 79+, 65 in PTE). This is a very significant accomplishment for us. We are very glad that our students have supported us throughout the years. We are celebrating this Special Occasion with a Special Offer from Melbourne PTE.
Buy our 1 Month PTE Dynamic Preparation Course  for only $330 and receive 2 months of extra PTE coaching 
PLUS
You will get 3-month Aiwas plus Speaking Access for FREE!!!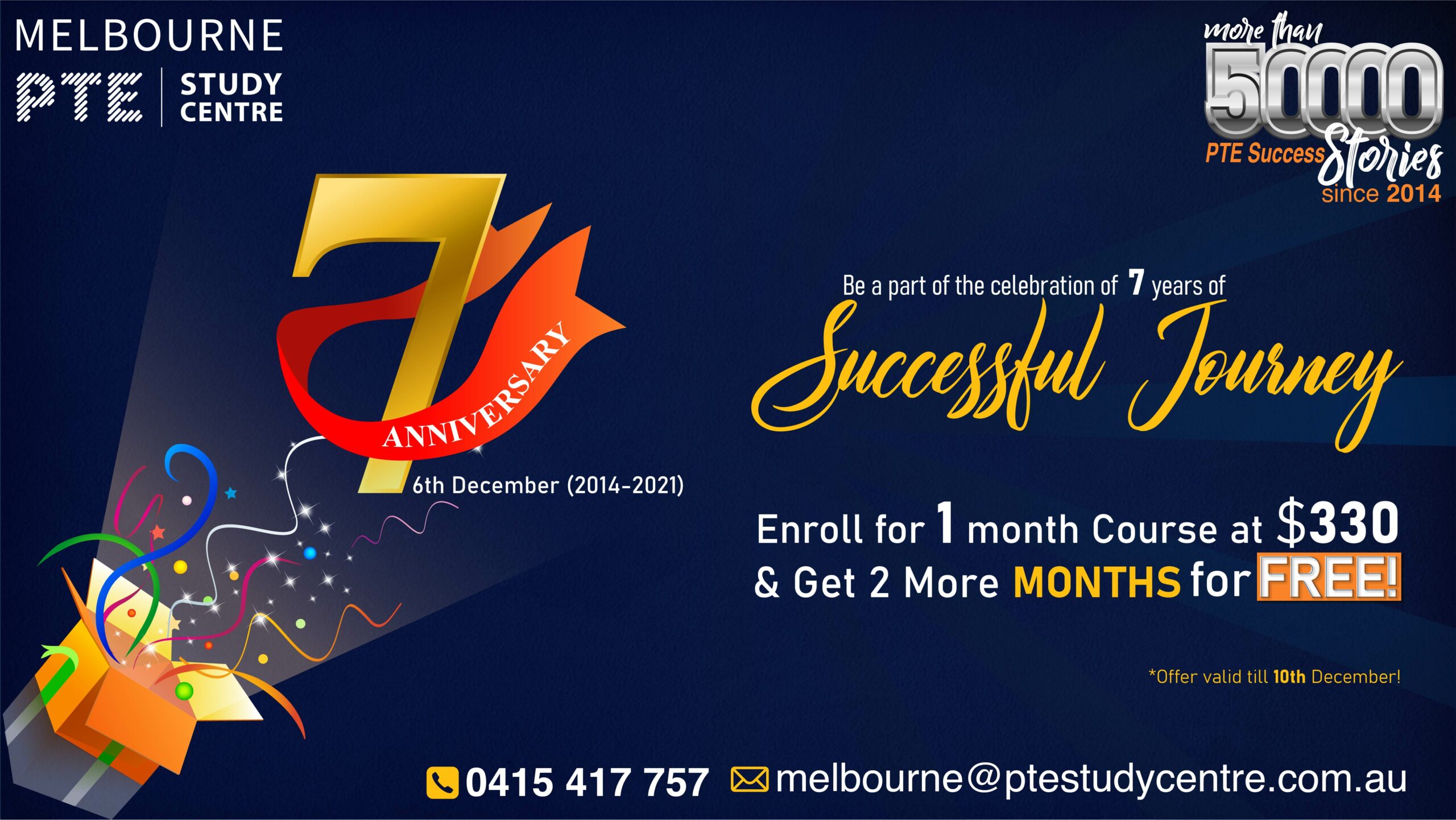 Let's have a look at the services that we are offering our students:
We provide access to the current best-ever PTE practice portal called

AIWAS Plus,

which is an Artificial Intelligence-based Web application for PTE practice and mock tests.

Students have 24/7 access to our

online study portal,

which offers the most current study materials, as well as face-to-face and online live lectures, recorded video lectures, and much more throughout the year

 We recommend that all PTE students read our

monthly prediction file,

as it ensures up to 60% of common questions on the real PTE test.

 

3 mock tests

are conducted each week. These tests increase students' confidence and allow them to evaluate their performance.

 

One-on-one consultations

with the trainer are designed to help students identify their weaknesses and improve themselves. We offer tailored strategies that are personalized for each student.

We provide weekly 4 hours exclusive intensive PTE learning sessions, in this session students get very effective tips and tricks for every section of PTE. 
Now, what will you get when you enroll in this Anniversary offer at $330 ONLY!?
24/7 Online PTE Portal Access for 90 days.

 3 Mock tests every week means 36 mock tests in total for 3 Months.

 Monthly prediction file for 3 months means 3 sets of new prediction files which ensures up to 60% of the common questions in the PTE test.

200+ Recorded video lectures.
24/7 Aiwas Plus practice portal access for 90 days where you can practice all the PTE topics anytime.
8 1-on-1 Consultation with the Expert trainers.
44 hours of intensive PTE learning sessions, in this session you will get very effective tips and tricks for every section of PTE.
Don't miss the opportunity to get the 3x offer. Pay for 1 month and get 3 months of access in total!!!

Call: 0415 417 757,  Mail: [email protected]
Level 8, 345 Queen Street, Melbourne CBD, VIC 3000